หน้าหลัก
>
Lawn Mower
>
Greenworks Pro 80V 21 Brushless Cordless Lawn Mower, (2) 2.0Ah Batteries and 30 Minute Rapid Charger Included (2) 2Ah Batteries Push Mower
Greenworks Pro 80V 21 Brushless Cordless Lawn Mower, (2) 2.0Ah Batteries and 30 Minute Rapid Charger Included (2) 2Ah Batteries Push Mower
รายละเอียด

ชื่อสินค้า:

Greenworks Pro 80V 21 Brushless Cordless Lawn Mower, (2) 2.0Ah Batteries and 30 Minute Rapid Charger Included (2) 2Ah Batteries Push Mower

หมายเลขสินค้า:

975cb4df-f65e-40c7-8e01-364b0ff99b2d

น้ำหนัก:

0 kg = 0.0000 lb = 0.0000 oz

หมวดหมู่:

Lawn Mower

ยี่ห้อ:

amazon

วันที่สร้าง:

2022-03-28

(2) 80V 2AH li-ion battery and rapid charger included, compatible battery and charger models GBA80200, GBA80400 and GCH8040, rapid charge of 30 minutes for 80V 2AH battery and 60 minutes for 80V 4AH battery, 80V Li-Ion offers up to 60 minutes of run time with fully charged 4ah battery (4AH Battery Sold Separately or with lawn mower model GLM801602). Push button start. 3-in-1 Mulch, rear bag, and side discharge. Smart Cut Load sensing technology. Brushless motors are more reliable and delivers gas equivalent performance to a 160cc gas engine. 2.0Ah battery and charger included. Front wheels: 7 Inch. NEVER STOP CUTTING. Up to 60 minutes of run time with 2 fully charged 2.0AH Battery.
Greenworks, one-battery fits all Pro 80V system includes over 20+ tools to choose from. Any tool, any time, Greenworks has you covered. Our commercial grade pro 80V system is perfect for the professional & those yd warriors wanting more power. Great for yd up to 1 acre with a battery run-time of up to 60 mins. The Greenworks 80V 21" Cordless Lawn Mower features a durable steel deck, large 10" Rear wheels, & smart cut load sensing technology. Light weight & easy to use & features an all-wheel single lever height adjustment. Designed for durability & heavy-duty jobs, our brushless motor delivers the power & performance of a 160cc gas engine. Multiple batteries provide you continuous run-time, charge one, use one, gets the job done. Our 30 min rapid charger gets your batteries charged in no-time. All this without the hassle of gas, cords or maintenance. That's the power of Greenworks. DigiPro digital controlled brushless motor for greater efficiency and higher performance.
เพิ่มเข้าไปในรถเข็นเรียบร้อยแล้ว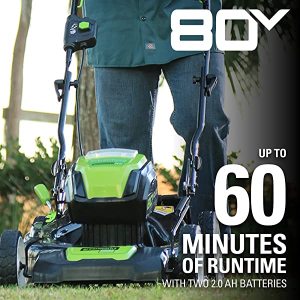 Greenworks Pro 80V 21 Brushless Cordless Lawn Mower, (2) 2.0Ah Batteries and 30 Minute Rapid Charger Included (2) 2Ah Batteries Push Mower
color:red,size:xxl
ติดต่อเรา

Address: 1480 S Military Trail,West Palm Beach, FL 33415, USA
Customer service email: [email protected]
(Hours of operation: Monday-Saturday 9:00am-18:00pm)




เข้าร่วมชุมชนของเรา
สมัครสมาชิกข่าวสารของเรา
Company Info
Company Policies