Euhomy Portable Ice Maker 40Lbs/day Grey
รายละเอียด

ชื่อสินค้า:

Euhomy Portable Ice Maker 40Lbs/day Grey

หมายเลขสินค้า:

2403e40f-2351-4f5b-a1a4-e21c416e1226

น้ำหนัก:

0 kg = 0.0000 lb = 0.0000 oz

หมวดหมู่:

Furniture

ยี่ห้อ:

shopify

วันที่สร้าง:

2022-03-31

Euhomy Countertop Icemaker 40Lbs/day produces 24 cubes of ice every 15 minutes, this can sum up to 40pounds per 24 hours cycle. This ice quantity suffices for most family parties.
Euhomy 

portable

 ice maker 40Lbs/day

can be placed everywhere, the ice maker is independent of the source of water since you just need to drop drinkable water into the ice maker to start making ice. Therefore, you may place an ice maker anywhere you seem to be convenient for you.
Euhomy ice maker not only lets you enjoy delicious, odor-free ice cubes but will also help you save water!! Our ice maker is equipped with a 2.2-liter water tank which recycles water in the tank, ensuring that no water is wasted.
Euhomy portable ice maker 40Lbs/day has the most advanced infrared sensor technology. When the ice basket is full, the home ice maker will stop the ice making to prevent ice from overflowing. You can do other things when the machine is making ice.
เพิ่มเข้าไปในรถเข็นเรียบร้อยแล้ว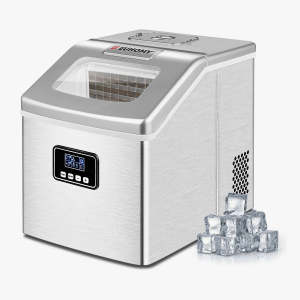 Euhomy Portable Ice Maker 40Lbs/day Grey
color:red,size:xxl
ติดต่อเรา

Address: 1480 S Military Trail,West Palm Beach, FL 33415, USA
Customer service email: [email protected]
(Hours of operation: Monday-Saturday 9:00am-18:00pm)




เข้าร่วมชุมชนของเรา
สมัครสมาชิกข่าวสารของเรา
Company Info
Company Policies