Bluetooth speaker waterproof, Pohopa 2 pack true wireless stereo 20W speaker
รายละเอียด

ชื่อสินค้า:

Bluetooth speaker waterproof, Pohopa 2 pack true wireless stereo 20W speaker

หมายเลขสินค้า:

f904ac16-e57e-43cc-bb95-8769e78b461b

น้ำหนัก:

0 kg = 0.0000 lb = 0.0000 oz

หมวดหมู่:

Furniture

วันที่สร้าง:

2022-02-17

About this item

√ WIRELESS STEREO DUAL PAIRING: TWS function lets you pair two speakers for a powerful 20W true stereo surround sound. Pohopa 2020 ❤EF-B210G(COLOR VERSION)❤ Indoor/Outdoor speakers deliver rich, room-filling stereo sound, as if your favorite singer was performing in your home. (the HOST speaker and SUB speaker will automatically link with each other within 6 seconds after you turn on both and you can gain control the power off, lights on/off for both speakers just through one speaker).

√ SOUND RESPONSIVE COLOR CHANGING LIGHTS: 20-piece built-in bright LED lights around, 7-color lights display PLUS one ❤SOUND RESPONSIVE❤ color changing effect. Feel the light changes with the music beat. The colors rotate through Red, Green, Dark blue, Yellow, Light blue, Purple, and White or select individual color you like. Surprise neighbors, passersby, surprise anyone. Feel the cool lights in the video.

√ BOOING BASS&HD STEREO SOUND: Pair to get 20 watts of powerful sound. Pohopa speaker system powers a 3" aluminum injection cones subwoofer and a bass reflex vent for added bass response, achieving crisp sounds and filling your area with clean highs, while feeling the deep bass response from the articulated sound enclosure. Feel the sound in the video. IP54 waterproof and dust-proof, perfect for backyard, pool area, patio, lawn, deck, camping, etc.

√ LARGE CAPACITY BATTERY: 4400MAH(each unit) built-in high capacity rechargeable lithium battery supports up to 12 hours continual music playback with LED lights on at 1/2 of the volume on a full charge, or 6 hours at full volume, or 20 hours LED light, or more than 15 hours continual music playback with lights off at 70% of the volume(which is more than enough indoors). Ideal as a companion or gift for parties, celebrations, BBQ, house décor and more.

√ WHAT YOU GET: 2xPohopa Bluetooth speakers, 2xMicro-USB cables, 3.5mm audio cable, User's manual, one year warranty, lifetime support, prompt response within 12 hours, which make your purchase absolutely risk-free and you can enjoy testing out their quality and durability.
เพิ่มเข้าไปในรถเข็นเรียบร้อยแล้ว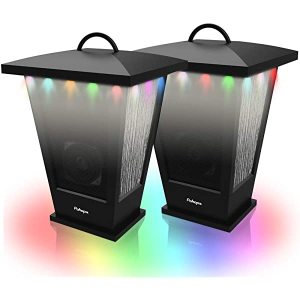 Bluetooth speaker waterproof, Pohopa 2 pack true wireless stereo 20W speaker
color:red,size:xxl
ติดต่อเรา

Address: 1480 S Military Trail,West Palm Beach, FL 33415, USA
Customer service email: [email protected]
(Hours of operation: Monday-Saturday 9:00am-18:00pm)




เข้าร่วมชุมชนของเรา
สมัครสมาชิกข่าวสารของเรา
Company Info
Company Policies